Monument Peak, CA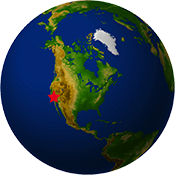 The Monument Peak site is located in Southern California, approximately 70 km East of San Diego, within the confines of the Cleveland National Forest. Access from San Diego to the site is via Interstate 8 to Sunrise Hwy. The site sits at approximately 6,150 feet, is remote and experiences weather conditions ranging from desert to heavy rains and even snow during the mid-to-late Winter months. Skies at the site, are generally clear, especially during the non-rainy season and excellent for SLR activities.
The Monument Peak compound size is approximately 0.22 hectares, which is too small to have all techniques supported. This also does not include the areas where the two calibration piers are located.
Currently, the space geodetic techniques that are located at this site include the MOBLAS-4 SLR system, which has occupied this site since 1981. Also at the site is the GNSS antenna. Monument Peak also hosts an EarthScope seismic station.
The weather is excellent for SLR, allowing tracking about 70%-75% of the time. The SLR station currently operates 16 hours a day, 5 days a week.
A DORIS antenna is located at the site. However, this beacon no longer transmits signals due to RFI issues with a local television station who has a license to operate at that frequency. The Monument Peak DORIS beacon was operational from December 2005 through February 2010.
Monument Peak site map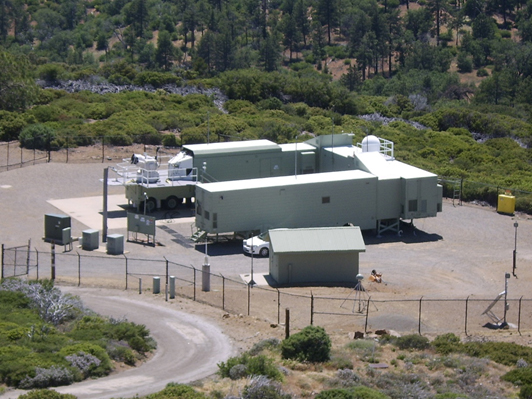 SLR at Monument Peak
Related Links: