Project Overview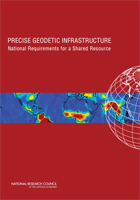 "Precise Geodetic Infrastructure: National Requirements for a Shared Resource," published by National Acadamies Press
The Space Geodesy Project (SGP) encompasses the development, operation, and maintenance of a Global Network of Space Geodetic technique instruments, a data transport and collection system, analysis and the public disseminations of data products required to maintain a stable terrestrial reference system. This includes the management, operations and development of NASA's Space Geodetic Network that is comprised of the four major space geodetic observing systems: Very Long Baseline Interferometry (VLBI), Satellite Laser Ranging (SLR), Global Navigation Satellite System (GNSS), and the Doppler Orbitography and Radio-positioning by Integrated Satellite (DORIS) system.
SGP was initiated in 2011 in response to the Earth Science Decadal and the National Research Council study "Precise Geodetic Infrastructure" as a collaborative effort between Goddard Space Flight Center, NASA's Jet Propulsion Laboratory, Smithsonian Astrophysical Observatory, University of Maryland, and many other U.S. and international partners. In 2013 SGP became a single project program within NASA's Earth Science Division with the primary goals of delivering and maintaining a high precision Terrestrial Reference Frame and providing the data and analysis essential for fully realizing the measurement potential of the current and coming generation of Earth Observing spacecraft.
SGP recently completed a prototype core site with all four geodetic techniques at NASA's Geophysical and Astronomical Observatory. This site is now the basis for the ongoing deployment of NASA's next generation Space Geodetic Network that is part of NASA's contribution to the Global Geodetic Observing System (GGOS). This upgraded global network will significantly improve the International Terrestrial Reference Frame (ITRF) as well as all other network products (e.g. precision orbit determination, local & regional deformation, astrometry, etc.), with concomitant benefits to the supported and tracked missions, science projects, and engineering applications. SGP is also working closely with the US Air Force and the Naval Research Laboratory to put retroreflectors on the next generation of GPS satellites. Laser ranging to GPS will significantly improve the ITRF, better align it to the WGS-84 terrestrial reference frame, and provide an accurate means of distributing the ITRF to GPS users.