Dan O'Gara retired after 37 years of dedicated support to the International Geodetic Community
05/12/2021

The International Laser Ranging Service (ILRS) and the NASA Space Geodesy Project (SGP) express our appreciation and congratulations to Dan O'Gara for his 37 years of service to the international geodetic community. Dan retired from the University of Hawaii (UH) on April 30, 2021.

Much of Dan O'Gara's work at UH was with the Lunar Ranging Experiment (LURE) observatory. The University of Hawaii's LURE was installed on Haleakala in 1973. Dan joined the team in the early 1980s, performing maintenance and developing the software to control the LURE beam director and operating the system. The station became known as HOLLAS by the ILRS community as it gained the capability to track satellites and took on the 4-character code of HALL (for Haleakala Laser), but the locals always referred to it as LURE. Dan eventually became the station manager for LURE while he continued to develop the software and operate the system.

See https://ilrs.gsfc.nasa.gov/network/stations/inactive/HALL_station_info.html and http://koa.ifa.hawaii.edu/Lure/#:~:text=The%20Lure%20Observatory%20is%20located,Maui%20in%20the%20Hawaiian%20archipelago.&text=The%20Lunar%20Ranging%20Experiment%20(LURE,and%20reflectors%20on%20the%20Moon

The LURE facility was decommissioned in 1990 to make room for another experiment. In 2006, NASA installed the TLRS-4 Satellite Laser Ranging station at a different location on the top of the mountain. Dan continued his work as station manager, operator, and laser ranging software expert for TLRS-4.

Dan is well known and liked by everyone in the ILRS and SGP. He continued his interest in the lunar community even after the UH lunar laser ranging program ended. He participated in multiple ILRS Workshops including the Workshop in Annapolis which celebrated the 50th anniversary of SLR. He hosted numerous site visits to Haleakala by many groups and supported the Space Geodesy Project's preliminary work to deploy a next generation SLR station and new GNSS stations on the top of Haleakala, helping the SGP team find a good location for the new SLR system and supporting the team's site visit in 2015.

The Maui SLR stations have played a critical role in the international SLR network by covering satellite tracking over the Pacific. The station team under the leadership and management of Dan O'Gara has done a great job. His calm demeanor and sense of humor has been much appreciated.

Dan was the face of Hawaii laser ranging for many decades. He will be greatly missed by his colleagues and friends in the Space Geodesy Project and the International Laser Ranging Service. We wish Dan a healthy and happy retirement, and great success in his future plans!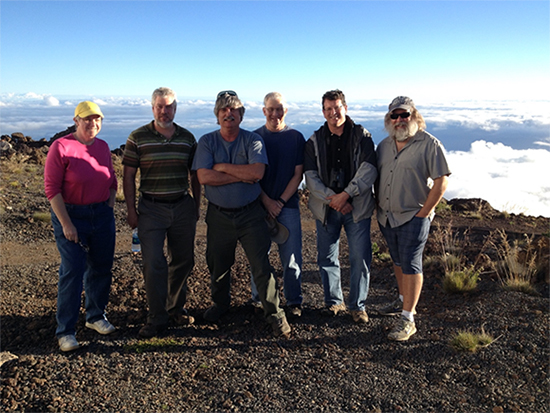 "
Dan O'Gara, featured at the center of the picture, accompanied by SGP folks during a site visit in 2015. From left to right: Jan McGarry, Stephen Merkowitz, Dan O'Gara, Jim Long, Scott Wetzel, and David Stowers. (Photo credit: Scott Wetzel)
MIT Haystack hosts the NEROC Fifth Annual Radio Science Symposium
11/19/2020


MIT Haystack hosted the NEROC Fifth Annual Radio Science Symposium (https://www.haystack.mit.edu/neroc2020) in fireside chat plus virtual poster format. The Northeast Radio Observatory Corporation, NEROC, is a nonprofit consortium of educational and research institutions founded in 1967 to run the Haystack 37-m radio telescope and operate Haystack Observatory; current membership comprises 12 academic institutions including MIT, Boston, Brandeis, Dartmouth, and Harvard University.
Precise Orbit Determination is a critical part of measureing sea level rise
11/15/2020


Precise Orbit Determination (POD) is a geodetic technique that enables knowing the exact position of a satellite above a stable reference point on Earth. Determining the exact position of the satellite when an observation is acquired is crucial in measuring sea level height. As noted by Dr. Frank Lemoine, a geodesist with NASA's Space Geodesy Project and a member of NASA's Ocean Surface Topography science team, "If you don't do POD right, you're not going to get any sea level results."

Read the full article on nasa.gov...
Publication of the 2016-2019 ILRS Report
11/03/2020


The ILRS is pleased to announce the publication of the 2016-2019 ILRS Report, the seventh published volume for the International Laser Ranging Service (ILRS). This publication once again concentrates on achievements and work in progress. This 2016-2019 ILRS Technical Report is available through the ILRS website at URL:

https://ilrs.gsfc.nasa.gov/about/reports/annualrpts/ilrsreport_2016.html.

The ILRS would like to thank all contributors to this latest issue.
ILRS Virtual World Tour 2020 third circular
10/13/2020


Registration for the virtual tours is now open. Attendance for each session will be limited to 250 connections and will be available on a first come, first served basis. We encourage group attendance where possible; only one person is required to register for the group. Interested parties can register at:

https://cddis.nasa.gov/ILRS_Virtual_World_Tour_2020/Registration/

Attendees are required to register for each session they plan to attend. There is no fee for registering and attending any of the tours. Registration will be closed on October 26, 2020.