Project Overview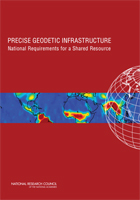 "Precise Geodetic Infrastructure: National Requirements for a Shared Resource," published by National Acadamies Press
NASA's Space Geodesy Project (SGP) is a new initiative that started at the end of FY11. SGP is part of the Earth Science Decadal and the National Research Council study "Precise Geodetic Infrastructure." It is a Goddard/JPL partnership with participation from the Smithsonian Astrophysical Observatory and the University of Maryland.
The long-range goal of the Space Geodesy Project is to build, deploy and operate a next generation NASA Space Geodetic Network (NSGN) of integrated, multi-technique next generation space geodetic observing systems, along with a system that provides for accurate vector ties between them. This new NSGN will serve as NASA's core contribution to a global network designed to produce the higher quality observational data required to maintain the Terrestrial Reference Frame and provide other data necessary for fully realizing the measurement potential of the current and coming generation of Earth Observing spacecraft.
A second goal of SGP is to develop a Project Implementation Plan for the construction, deployment and operation of a NASA network of similar next generation stations that will become the core of a larger global network of modern space geodetic stations.
Three tasks are currently underway:
Complete ongoing Network Design Studies that describe the appropriate number and distribution of next generation Space Geodetic Stations for an improved global network
Establish the prototype next generation integrated NASA Space Geodetic Station
Produce a Project Implementation Plan (IP) for the build out, deployment and operation of a proposed next generation integrated NASA Space Geodetic Network