KPGO - Kōkeʻe Park Geophysical Observatory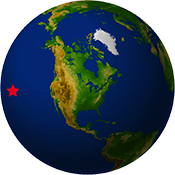 KPGO hosts three of the four geodetic techniques:
Global Navigational Satellite System (GNSS): KPGO hosts a Turbo-Rogue GPS receiver with a total of six GNSS receivers, and it is an IGS station.
Very Long Baseline Interferometry (VLBI): KPGO currently hosts two VLBI antennas -- a 20-m S/X antenna and a VGOS 12-m antenna. It has hosted additional antennas in the past.
Doppler Orbitography and Radio-positioning integrated by Satellite (DORIS): KPGO hosts a DORIS beacon and remote control.
KPGO operations began in 1961. At that time, KPGO was part of the NASA Manned Space Flight Network (MSFN). Since that time, KPGO has supported many NASA and external projects and has hosted equipment from a variety of techniques. KPGO is a highly flexible and useful geodetic site.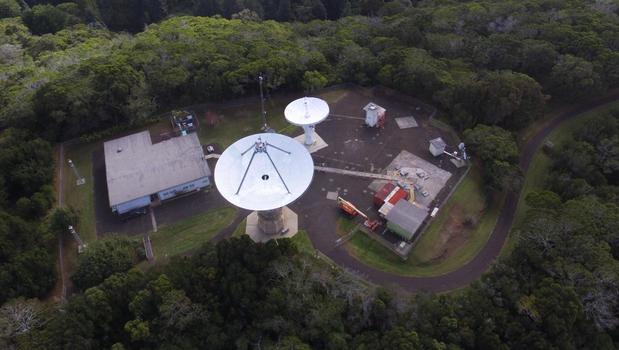 KPGO site
Recent news:
New antenna preparing for graduation and entering the VLBI workforce

May 13, 2016
It is graduation season, and the new VGOS 12-m antenna at KPGO is nearly ready to transition to operations!
The freshman antenna arrived in September 2015, understandably anxious about that first semester. With a solid foundation and pedestal to stand on, she spread an intricate web of beams and struts, and topped her top with a sea of reflecting panels. Under the long-shadow of the 20-meter, the next generation antenna continued to blossom and grow.
The VGOS signal chain installed in January 2016 opened her eyes to new sights and possibilities. She quickly learned to collaborate with her older siblings across the ocean at Westford and GGAO. The three antennas can now routinely observe in broadband continuously for 24 hours!
With the senior 20-meter antenna about to have open heart surgery on its main bearing, it was important to pass the geodetic knowledge to the new generation as quickly as possible. A series of observing sessions provided the link at the millimeter-level between the two KPGO antennas. The KPGO handoff was successful and the 20-meter antenna is now getting much needed repairs.
The new antenna is now ready to reach out to the rest of the world and has started learning new languages. A series of compatibility test were performed with several European stations that are also anxious to join the VGOS network.
With just a few more tweaks and tests, our young antenna is ready to graduate and join the greater VLBI workforce. We expect to hold an Operational Readiness Review within the next two months. With the intensive commissioning activities coming to an end, this will be the final entry to this blog. Please continue to visit the SGP website for news and updates. Its been fun sharing our progress with you.
-- Larry Hilliard, Pedro Elosegui, Stephen Merkowitz, and the rest of the SGP team.
Historic handoff at KPGO from a metaphorical 12-m antenna standing guard and seeking out quasars sky-wide while legacy 20-m antenna gets needed repairs to her azimuth bearing, to play a reduced role during her extended life, and making way for a new generation.